Your kitchen is the heart of your home, and one way to make it feel cosy and beautiful is with your kitchen decor. With many various styles of kitchen finds on Etsy, you're sure to find that special piece for your own kitchen.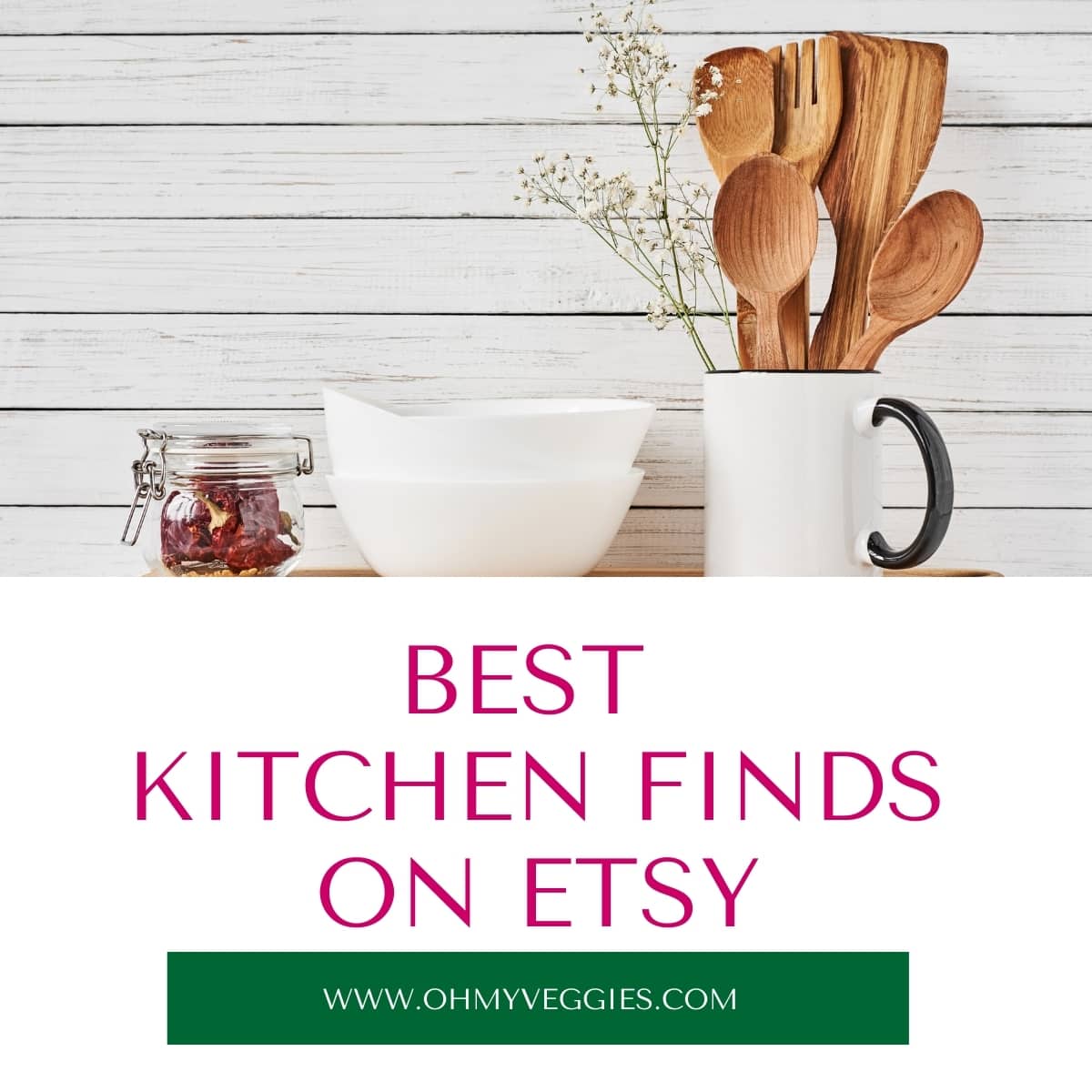 When you're looking for the best kitchen finds on Etsy, you'll want to consider price, style, quality, and reviews. You'll be happy to know that shopping on Etsy is supporting someone's small business. There are many different styles on Etsy, and I urge you to explore and find something you love. Sprucing up your kitchen is a great way to add personality and love into the space. 
Best Kitchen Finds on Etsy
This beautiful rustic-looking sign will add warmth to your kitchen. It's 7 inches by 21.5 inches long. This sign works well with any decor, but specifically farmhouse or rustic style. This sign features countless 5-star reviews and hundreds of customers absolutely love having this sign in their kitchen. The wooden look gives it a cabin-type feel while the white gives it a clean and simple touch. This is a beautiful sign to add to your kitchen!
This cutting board makes a great gift for yourself or for someone else! These gorgeous wooden cutting boards comes beautifully personalized to you, and there are various wood options to choose from. This wooden cutting board is so beautiful you could hang it for decor or leave it out on display—or you could actually use it for chopping your food. Either way it's a gorgeous find for your kitchen!
What kitchen doesn't need some avocado inspiration in it? Vintage and minimalist-style, this avocado print is the perfect addition to your kitchen. Vintage Poster Decor has many 5-star reviews and countless happy customers. This avocado print would be beautiful no matter what style kitchen you have!
Store your beautiful coffee mugs on this farmhouse-inspired coffee rack. There are many different stain options available, so you can match your coffee mug rack exactly to your decor. This rack is made with excellent craftsmanship and features an incredible number of 5-star reviews. This rack is built strong to carry your coffee cups and beautiful so it can be a part of your decor!
These funny dish towels would be delightful for any kitchen. Featuring funny little puns on each one, they are sure to bring a smile to your face. With excellent quality and bright colors, these 3 dish towels are a great way to add some humor into your decor.
This miniature egg fridge-magnet is sure to bring a smile to everyone's face. Featuring a bright yellow yolk and wiggly egg whites, this lifelike egg magnet will be a hit in every kitchen. This magnet has been purchased many times and has many happy customers!
This eco-friendly spoon set is awesome for all kitchens. The beautiful wood finish is dreamy, and the craftsmanship and attention to detail are very well done. This set has many amazing reviews and many happy customers. These wooden utensils would make a beautiful piece of decor and also work well as functional spoons. Either way, these utensils are beautiful and perfect for your kitchen.
This cute tea towel is a perfect fit for any kitchen! Adding a touch of humour and a hint of colour, this tea towel will be a great addition to your decor. This linen tea towel is both cute and excellent quality!
Any kitchen that has little chefs could really use this little sidekick stool! This tower stool is the perfect height for your little to be involved in any kitchen prep and provides room for your little to get their wiggly jigglies out without falling off! The stool has a large opening and clear step so your little can practise their independence skills. It also has 3 different height settings, so you can use it for years to come as your little one grows!
Adding a little piece of decor to your kitchen is a great way to bring personality and fun into your home. You can stick with your current decor theme, or spruce it up with something totally different.
This article was originally published by ohmyveggies.com. Read the original article here.